sonderpop / ~shop
NEW / NEW / NEW / NEW / NEW / NEW / NEW / NEW / NEW / NEW / NEW / NEW / NEW / NEW
marder: monologmuseum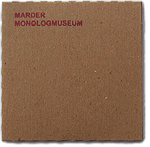 Cryptic bass-heavy post-punk / indie rock from the ruins of KWS and a summer vacation for Mangold mambers.
sp003. August 2011. 11 tracks.
Listen, order CDs and download at
marder.bandcamp.com
Downloads also available at
iTunes
&
Amazon
Streaming at Spotify & Napster (coming soon)
All prices include worldwide shipping. Orders are usually processed and shipped within 1-2 business days.
Downloads are immediately available upon payment.
Online payments are processed by PayPal. It is not necessary to have a PayPal account in order to make a credit card payment. Please refer to
www.paypal.com
for details.
When you click on one of the "add to cart" buttons, the PayPal shopping cart will open in a new window/tab. You can close that window if you want to go back and add more items.
If you would like to use other methods of payment, please write an
email
and we'll try to work something out.
Please note the
info regarding the "wort + bild" MP3 download
.
Important for downloads: Click on the "Back to mangold@sonderpop.de" button after completing your payment on PayPal, you will then be redirected to the download page.
mangold: wort + bild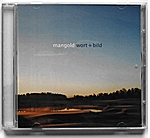 sp002. October 2009. 11 Tracks.
Details and stream of the entire album:
www.mangoldmusik.de
.
| | | |
| --- | --- | --- |
| CD incl. MP3 download* | 15,- € | |
| | | |
| MP3 download* | 7,- € | |
Downloads are also available from
iTunes
,
Amazon
and a few other online stores.
mangold: s/t ep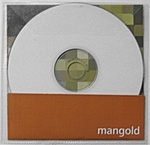 sp001. May 2008. 4 Tracks. Only a few copies left!
Fernsprecher
Auf Händen gelaufen
Gravenbruch
Kein Empfang
The EP versions of Fernsprecher, Auf Händen gelaufen and Kein Empfang are about 80% identical to the album versions. The non-album track "Gravenbruch" is a short instrumental piece. Non-collectors probably won't need this.
mangold: t-shirt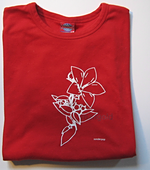 Two-color print (front only) on a bright red winter-proof shirt. Only in XL, but rather small for that. (width without sleeves 47 cm, length 64 cm)
To celebrate the album release you'll get the MP3 download for free when ordering a shirt!
T-Shirt incl. "wort+bild"
MP3 download*
22,- €
* Info regarding the "wort + bild" MP3-download:
The download is a zip file including the 11 tracks of the album (best quality, 320 kbit/s, should play on any MP3 device), a PDF version of the CD booklet with artwork and lyrics and a high-resolution JPG image of the front cover.
Upon successful payment at PayPal, you will be redirected to our download server, where the file will be available for 24 hours. If you experience any problems downloading, please
drop us a line
and we will do our best to help you out.